INFLUENCE YOUTH
INFLUENCE YOUTH IS ABOUT RESOURCING, EQUIPPING AND RELEASING YOUNG LIVES INTO GODS BEST SO THAT THEY CAN BE AN INFLUENCE WHEREVER THEY GO.
IF YOU ARE (11-18) WHY NOT COME ALONG TO OUR INFLUENCE YOUTH- THE DOOR OPENS AT 7PM EVERY MONDAY!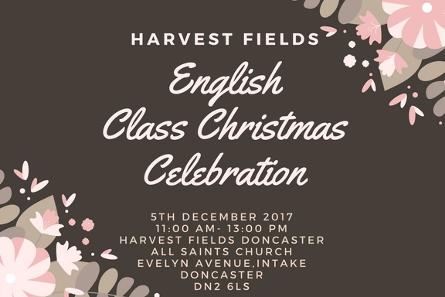 ENGLISH CLASS CHRISTMAS CELEBRATION
We are excited about our ENGLISH CLASS CHRISTMAS CELEBRATION which will be taking place on the 5TH DECEMBER at HARVEST FIELDS DONCASTER
- it's a family event and will be great DAYof food, CAROLS And CERTIFICATE CEREMONY!
5TH DECEMBER: 11:00 AM ONWARDS: HARVEST FIELDS CHURCH IN INTAKE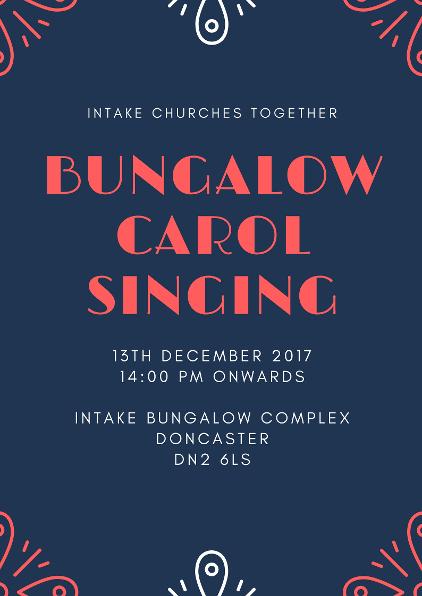 BUNGALOW CAROL SINGING
THIS YEAR CHURCHES FROM INTAKE WILL BE COMING TOGETHER TO SING SOME CAROLS OUTSIDE THE BUNGALOWS IN INTAKE.
THE SINGING WILL TAKE PLACE OUTSIDE THE BUNGALOWS IN INTAKE, DONCASTER NEXT TO THE LIBRARY AND WE ARE REALLY EXCITED TO SING AND SPREAD THE LOVE OF CHRIST OVER THIS CHRISTMAS SEASON.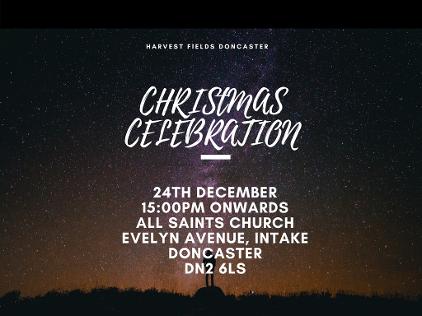 CHRISTMAS CELEBRATION
IT IS AN EXCITING TIME OF THE YEAR WHERE WE CELEBRATE THE BIRTH OF THE SAVIOUR (JESUS CHRIST). DON'T MISS OUT ON THIS GREAT EVENT WHERE WE WILL BE LIGHTING UP SOME CHRISTINGLE, SINGING SOME CAROLS FOLLOWED BY SOME HOT AND COLD BUFFET. WE WOULD LOVE TO HAVE YOU AT OUR CHRISTMAS CELEBRATION- BE THERE! 24TH DECEMBER: 15:00PM ONWARDS: HARVEST FIELDS CHURCH IN INTAKE, DONCASTER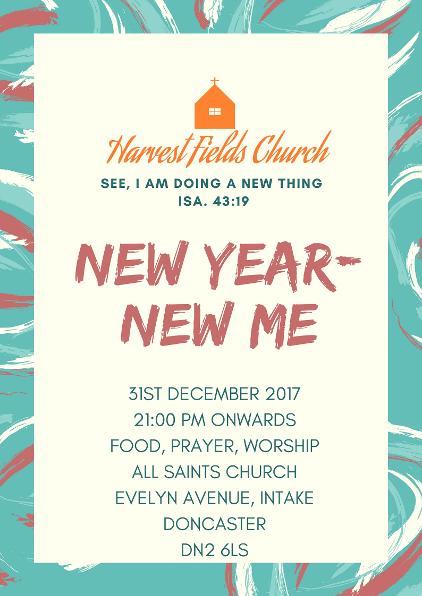 NEW YEAR- NEW ME
AS A CHURCH WE BELIEVE THAT ALTHOUGH WE MIGHT MAKE PLANS FOR OUR PRESENT AND FUTURE- IT IS GOD WHO DIRECTS OUR STEPS. THEREFORE, NEW YEAR- NEW ME IS ABOUT BELIEVING THAT THE NEXT YEAR IS GOING TO BE AN AMAZING YEAR FULL OF GOD'S GOODNESS AND FAVOUR. IT IS GOING TO BE A NIGHT OF PRAYER, WORSHIP AND REFRESHMENTS ACKNOWLEDGING THE ONE IN WHOM 'ALL THINGS ARE POSSIBLE'.
31ST DECEMBER 2017: 21:00 PM ONWARDS: HARVEST FIELDS CHURCH IN INTAKE